Hi All beautiful Souls, hope you are all well!
Taking a look at CR 2 now in September for the timeline of this next run to confirm prices for this year only. After checking its prices for what could be the highest point being October. I am at this stage only focusing on what's going to hit for this year and the remainder of all prices will eventually get hit with time.
As you can see by the photo all prices for Box 2 2021 are still majority on target and getting the same thing especially if it's circled. I have circled the most recent price received and you can see that in the picture or it is written next to it if a new price has been received.
As I already mentioned in the last post re BCH's new price now for October high is $1270, as it already hit the old predicted price. Other changes I am getting are now LINK – $110 this one has jumped dramatically from my previous prediction of around$70…….. I'm not sure why this is except as you know I have been working on what are ISO altcoins, why and what does it mean. LINK, LTC, QTUM are all part of this collection of altcoins and it feels they are giving more changeable information from my guides. Perhaps because my guides give me prices in the Oct timeline and the prices/energy moves more dramatically for these with the manipulation seen.
Also not saying as an altcoin has a huge price change in higher price it's an ISO 20022 altcoin, not just saying harder for my guides to read it. That's all!
Anyway, so new prices Box 2 estimated but not guaranteed Oct 2021 timeline –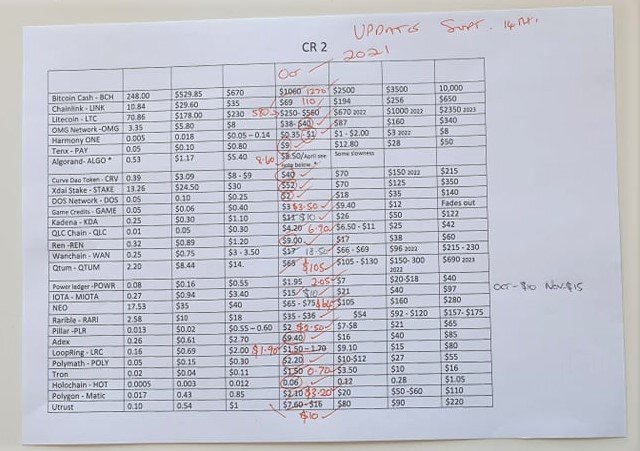 LINK – $110, LTC – $580, AlGO – $8.60, GAME – $3.50, QLC – $6.90, WAN – $18.50, QTUM – $105, POWR – $2.05, PLR – $2.50 LRC – $1.90, TRON – $0.70, Matic – $$3.20, UTK – $10 confirmed prices today.
IOTA – $10 for Oct but it will keep running in Nov and get to $15 but doubtful of safely catching it in this timeline of Nov but you never know. Just know I feel it riskier then, my guides say to try to catch it at that.
As prices come close to the target I will go in and check again and see what the next price will be.
Blessings all,
Jule