Hi Everyone, Here is the New Updated July Crypto Report 1
I have tried to make this as convenient and explanatory as possible. For your reference, I have added this year's previous 2021 All-Time-High price (ATH last run ) as a point of reference, and the current today price end July. You will notice I have taken out timelines now.
I have also added another Box called Energy 2021/2022 and there is an explanation about this box at the bottom. I have done it like this to teach about the energy I get and how easily it comes or not, or if prices change constantly of a particular altcoin. I hope by providing this will be able to help you more with your decisions. Note by no means does it mean a project/altcoin is not good, it does NOT mean that. I understand for some of you may be confusing why I have added this box, however for some of you it may be helpful. You could also check these yourself if you are now growing your intuition and see what you get.
Note the Energy 2021/2022 is a rating I have made up myself, with the feeling I get and also reading these projects many, many times if I am getting the same or conflicting different prices. So I use it as a guide like that.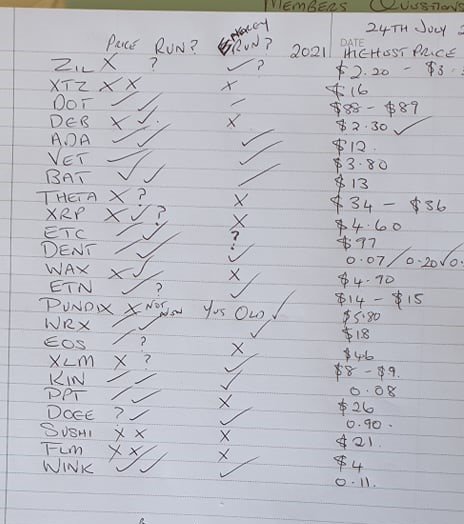 Yes, I have been finding PundiX hard to read because there is still confusion between the old and the new version. As the old is still live. I get the old will have a run this year but not so much the new. Very confusing when talking with Spirit about it, it's not clear at all. this will probably sort out further with time.
So after a while, if something is hard to read the more you try the worse it gets, it's like pushing against energy. Just gets more confusing and tiring. That's why I feel very happy when I get the same/similar things. I hope you understand my effort I have gone here to get as much clarity as I can this time around CR 1. All in the honing the skill. Yes, it is more time-consuming but I think worth the effort.
I know some of you wanted it earlier for the lower lows but it takes time and so wanted this time to check and re-check.
Blessings Jule